The Oakwood Café, located in the Club's lobby, offers a delightful menu that is sure to satisfy your hunger after that private Pilates session or vigorous game of pick-up Basketball.
Our daily menu consists of the freshest ingredients along with a few spices to "liven" things up. Our morning pastries are baked fresh daily which can be complemented with Peet's coffee and espresso. For lunch, try one of our made-to-order sandwiches or daily grilled salmon. And for those warm and sunny days, cool off with our signature fresh fruit smoothies or a fat-free frozen yogurt. We've got something to curb just about every appetite.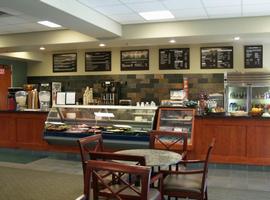 Whether it's "to-go" or a poolside snack, the Oakwood Café is sure to be a favorite stop during your club visit. Our Café is open Monday through Thursday 7:00 am to 8:30 pm, Friday 7:00 am to 7:30 pm, and Saturday and Sunday 8:00 am to 7:30 pm.